Is Julie Andrews not just the best thing ever! Maybe I'm biased since I've probably watched that movie a million times and I'll proudly admit I was a theatre geek, but I just love her. What would this world be like if there more of her in it!?!
I was sitting at my desk a couple days ago scrolling through Facebook when a video caught my eye. The frozen image of a lovely woman around my age. Honestly, I liked her style and was curious what she had to say. When I clicked, I realized she was bashing poor service she had received at a restaurant recently. She named the server, the name of the restaurant, and where it was located. I cringed, thinking about that unsuspecting server who probably had no idea her name was now heard by hundreds of people who had watched the video. Most of the woman's complaints seemed to be beyond the server's control. She didn't like how long it took for her food to come out, she didn't like how it tasted, and then she went on to attack the server's intelligence and social class as a reason for her issues - I'll save you the specific words she used. I quickly clicked out of it, not even really sure why I had given it that much of my time. But I immediately thought of my Chic Tribe. I thought of the now 5000 people that make up this group and how none of them would have tolerated this in our group. It made me proud. I am so deeply proud of what we have created here. Sometimes social media can be filled with a lot of hate and negativity, but I appreciate that it's still an amazing platform to share good things, too. Yummy recipes, funny cat videos, words of encouragement - we are in control of what we put out into the world and what we let in our world.
So this week I'm excited to share a few of the things I've been loving lately. And as a way to try to put more good out there to combat the bad, as well as celebrate you all getting us well past 5,000 followers, we are doing something special with this week's blog!
Five lucky winners will get one of the items on my favorites list! All you have to do is share the blog with your friends and comment below on which item you'd love to have! It's super easy and will take you only seconds.
On to the goodies!
#1: Freshly
Oh. My. Goodness! It's like this company came to my house one day, took one look at my life and said, you need this!
Freshly is a meal prep delivery service for those that can't or have no time to cook. I'm sure you've seen commercials for those "easy to prepare" meal delivery kits. Yeah, been there, tried that. Cooking just isn't my thing, ladies. And I'm ok with that. But that doesn't mean I still don't want to eat healthy, delicious meals. I just don't have the time! Plus, with six kids with very different appetites and preferences, that meal time battle is already hard enough.
To quote the website, Freshly is:
"No shopping, prepping, cooking, or clean-up required. Pick from over 30 different meals. Cooked by chefs and delivered fresh to your doorstep. Free shipping always included."
The meals come prepared and all you have to do is pop them in the microwave. I know what you're thinking! But these are not the TV dinners of our childhoods, believe me! They are shockingly fresh and yummy.
But for a pretty darn reasonable price, I can pop a meal in the microwave and get back to my never ending to-do list, which is really where I want to be anyway.
If you're curious and want to try it out, I contacted them directly to provide me with a special link to offer my ACB Tribe. Get 30% off your first order. I can't wait to hear what you think. I hope you love it as much as I do!
Plus, one lucky person who shares/comments will win a box FREE!
#2 All Things Animal Print
I know this one gets mixed reviews sometimes. People tend to love or loathe it. But I am absolutely loving the animal print trend right now. I'm seeing it pop up everywhere. It's fun, it's fierce, it's bold! But it doesn't have to be overwhelming. Just an accent here or there, mixed with some bright colors. It's so cute, you guys!
Check out how cute these looks are! And they're ageless too! If you've wanted to try this trend or thought in the past that you couldn't pull it off, this is your chance!
One of these adorable prints could be yours. Be sure to comment your preferred size below and share the blog!
#3 Provocalips
I get asked all the time about my lip color. I know people expect me to say some crazy expensive designer brand, but nope! It's Rimmel London's Provocalips. It is my hands down go to when it comes to lip color. It stays put, the colors are so bright and beautiful! And it doesn't make my lips feel dry or cakey. Love, love, love!
My favorite color right now is #200 I'll Call You. I had a hard time letting go of my favorite Winter color and picking my Spring/Summer transition, but this is definitely it! It's such a pretty pink and I'm finding it really universal with different looks.
And I'm sending this color home with one of you! Comment and share if you'd like to try it!
Can't wait? Use this link to get your color ASAP: https://amzn.to/2Mn1jdH
#4 BH Cosmetics

This is a makeup brand started in Los Angeles that I've recently fallen in love with! They have the most fun color palettes with bright eyeshadows and neons. But don't be scared away, the colors may be bold, but a little goes a long way. And sometimes it's fun to have something totally out of your comfort zone to try.
I love Take Me To Brazil! I can't believe how bold the colors and yet, how affordable! I think another tutorial video is in the future.
Check out some of their cool looks and remember to comment/share this blog if you're ready to try something fun! Or use this link to get your own guaranteed!
#5 Girl Wash Your Face and Girl Stop Apologizing by Rachel Hollis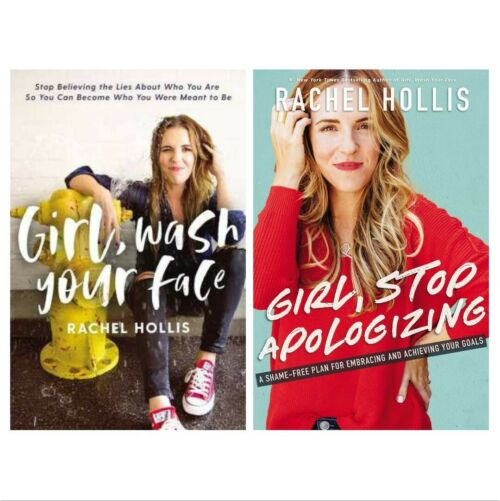 I'm guessing a few of you have heard of Rachel Hollis and her wildly successful self-help books, Girl Wash Your Face and the recently released Girl Stop Apologizing. Maybe you're a devoted follower like me, maybe she's on your to-be-read list, or maybe you're thinking, nope, no idea, who is she?
In any case, I love her and I'm pretty sure you will too! I've devoured both of her books and I just kept thinking, a lot of this is common sense, but I needed to be told this anyway. She is so down to earth, and inspiring and full of passion and confidence. I owe a lot to her words, and I'm so happy to share them with all of you.
She also has some great Insta Stories and is fun to follow on social media.
If you want to get a FREE copy of her books, comment/share this blog. Or get your own copy today!
I can't wait to announce the winners at the end of the week! Thank you for always being one of my favorite things, ACB Tribe! 
Chic Blessings friends,
Contributor/Editor: Kristy Porter
*ACB receives a small commission when you use our links to purchase these amazing products